Standard-Duty Operator
Commercial door operators from Overhead Door Corporation, provide an integrated door system that comes with our guarantee for reliable performance when you need it most--every day. Built with convenience in mind, our automatic door operators also make it safer and easier to perform daily job duties so you can improve efficiency and close the door on your competition.
Overhead Door's automatic door operators are manufactured to meet the performance requirements of our commercial and industrial doors, offering precise control of your door system for years of trouble-free operation. To improve safety and enhance the life of your door and motor, the industries guideline's for quality assurance recommend a single manufacturer for both door and operator. Overhead Door is the only manufacturer that offers a full line of commercial and industrial doors and operators specifically designed for integral applications. We offer the idustry's broadest line of electric, automatic door operators to suit new contruction and retrofit applications, as well as unusual or special requirements. Overhead Door commercial operators are UL 325 2010 compliant.
RSX Operator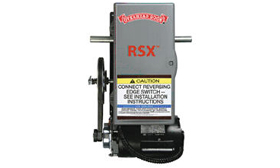 The RSX offers new state-of-the-art performance features:
Easy limit setting with Limit Lock - an electro/mechanical limit sensor that makes it easy to set and maintain limits.
Voltage freedom with Voltamatic - one unit for single phase voltages (115/208/230V), one unit for three phase voltages (208/230/460V) and one unit for three phase (575V)
Extra door system durability with Progressive Braking - DC brake system brings the door to a soft stop for less wear and tear on the system
Easy installation and trouble-shooting 16 character LCD display - intelligent menu structure and expanded self-diagnostics
Advanced radio receiver system with auto seek frequency range - quickly and easily learns up to 250 CodeDodger transmitters. This system will automatically cycle between 315 and 390 frequencies. It can add and delete transmitters from the menu and easily identify which transmitters are operating the door.
No adjustment needed with Super Belt - automatically adjusts itself to the correct tension
UL325 2010 compliant - this new standard requires the addition of monitored external entrapment devices prior to the operator working in momentary contact in the close direction.
RSX Advantages
Mounting - A wide variety of mounting options are available to fit any application including:
Sectional Doors - Standard, side mount, and dual trolley applications. 1/2 horsepower models available with or without brake (3/4 hp and 1 hp models come standard with brake). Side mount and center mount direct couple to the door shaft with or without hoist. Hoist models are left-hand or right-hand and adjustable in the field.
Rolling Steel Doors - With or without hoist, front of hood, top of hood, bench mount and wall mount. Hoist models are left-hand or right-hand and adjustable in the field.
Motor - Continuous duty motor available in 1/2, 3/4 and 1 horsepower; single or three-phase. Totally enclosed non-ventilated (TENV) construction and totally enclosed fan cooled (TEFC) construction units are available as options.
On-board radio receiver - This standard feature can add radio functionality to every job with no additional cost for the receiver. Stores up to 250 CodeDodger transmitters including the new commercial dual frequency cycling versions.
Drive reduction - Primary reduction in Super Belt, an auto tension poly-V flex belt that does not require adjustment. Secondary reduction is by chain and sprocket.
Direct coupling - Provides fast, easy installation and prevents chain slacking. Available as an optional kit for sectional side/center mount jackshaft and hoist units.
Mechanical brake system - 24V DC Disc Brake. Fewer mechanical parts for improved reliability.
Clutch - Adjustable disc-type helps protect door and operator from major damage should the door meet an obstruction.
Cycle counter - LCD (Liquid Crystal Display) clearly indicates the exact number of cycles logged for easy maintenance support.
Adjustable shaft - Output shaft can be moved from one side to the other, providing flexible installation options.
Trolley rail assembly - High strength 2 inch structural angle for added strength and durability.
NEMA 4/4X operators - Available for wet, dusty and corrosive environments.
New CodeDodger commercial dual frequency cycling transmitters - Available in 1,2,3,4-button and Open/Close/Stop versions. Automatically operates at both 315 and 390 MHz every time a button is pressed.
Warranty - RSX operator features a 2-year or 20,000 cycle limited warranty. See installation manual for complete limitations and details.
The service and support you need - when you need them.
When you select an Overhead Door product, you get more than advanced product design and manufacturing superiority - you get unmatched support and fast response through our nationwide network of over 400 Red Ribbon Distributors. For over four generations, Ribbon Distributors have provided the industry's single-source solution for commercial and industrial door and operator systems specifically designed for integrated applications. From design and application consulting to installation and ongoing maintenance, Overhead Door red Ribbon Distributors give you the service and support you need - when you need them.